Paper-based packaging solution
Discover our mono material EcoPaper Family approved for direct food contact.
Free consultation
The most recent addition to Ecolutions is a paper-based range of packaging called EcoPaper, which is suitable for food products with low to moderate barrier requirements and available for flowpacks, sachets, pouches, and doybags.
The advantages for consumers, retailers, and manufacturers are obvious. At first glance, consumers intuitively recognize paper as a natural product with a low environmental impact.
Both consumers and retailers have easy access to a well-established paper recycling system. And thanks to the strict certification standards of NGOs like the Forest Stewardship Council, our clients can rest assured that the wood fiber we use comes from sustainably managed forests.
As more and more consumers prefer eco-friendly packaging, Constantia Flexibles has risen to the challenge and pioneered a wide range of recyclable packaging solutions under the Ecolutions brand. EcoPaper is the latest Ecolutions innovation, transforming a dull relic of the past into a state-of-the-art solution for the future.
Although we have significantly updated the look and feel for today's consumers, consumers instantly recognize paper as a natural, sustainable material and have easy access to established recycling streams.
No matter the motivation, our EcoPaper Family offers clear benefits for food and non-food products across a variety of industries in addition to its contribution to the circular economy.
EcoPaper Family
General properties
• Mono material
• Widely recyclable in the paper stream
• Available with matt / gloss outside lacquer
• Printable by rotogravure, flexo, digital; surface side
• For heat seal or cold seal applications
• Tested for good machinability on vertical and horizontal packaging lines
• Ideal for food and non-food products

Structure
• Lacquer / Ink / Paper / Heat seal or cold seal

Packaging process
• Can be adapted to EcoPaper
• High speed and original efficiency can be achieved with minor modification
• Leading machine manufacturers have already developed tools to modify their horizontal flow wrapper or vertical bagger, in order to run paper
ecolutions
EcoPaper
For low barrier applications.
Paper pouches, flow-wraps or bundle packs for pre-packed products.
BARRIER PROPERTIES:
Mosh / Moah (Hexan) < 12 [g / (m2 · day)]
Seal strength (ASTM F88) 3 [N/15mm]
PRODUCTS
Multipacks or pouches for pre-packed products like:
Snacks
Confectionery
Home & Personal Care
ecolutions
EcoPaperPlus
For medium barrier applications
Paper flow-wrap for products with aroma and grease barrier requirements.
BARRIER PROPERTIES
Mosh / Moah (Hexan) < 12 [g / (m2 · day)]
Grease barrier (Tappi 559 Kit) 11
PRODUCTS
Flowpacks or pouches for products like:
Snacks
Confectionery
Home & Personal Care
ecolutions
EcoPaperHighPlus
For high barrier applications
Paper flow-wrap for products with good oxygen and water vapor barrier requirements.
BARRIER PROPERTIES
WVTR (38°C, 90% RH) < 3.5 [g / (m2 · day)]
OTR (23°C, 50% RH) < 2 [cm3 / (m2 · day · bar)]
Grease barrier (Tappi 559 Kit) 12
PRODUCTS
Flowpacks or pouches for sensitive products like:
Cereals
Snacks & Confectionery with high barrier requirements
Home & Personal Care
For which products can I use the EcoPaper?
We recommend the EcoPaper for pre-packed products or multipacks, the EcoPaperPlus for medium barrier products, specifically for Confectionery (chocolate, sugar coated, etc.) and the EcoPaperHighPlus for higher barrier products.
EcoPaper passes the chocolate test
There is one product that really put EcoPaper to the test: chocolate! Not only is paper a worthy alternative to the flexible plastic typically used in confectionery brands, its benefits track closely with trends on today's chocolate market. For example, paper packaging can draw attention to the natural, wholesome ingredients in chocolate brands designed to appeal to parents. It is also a good fit for premium brands or unique flavor combinations looking to differentiate from the competition on the shelf.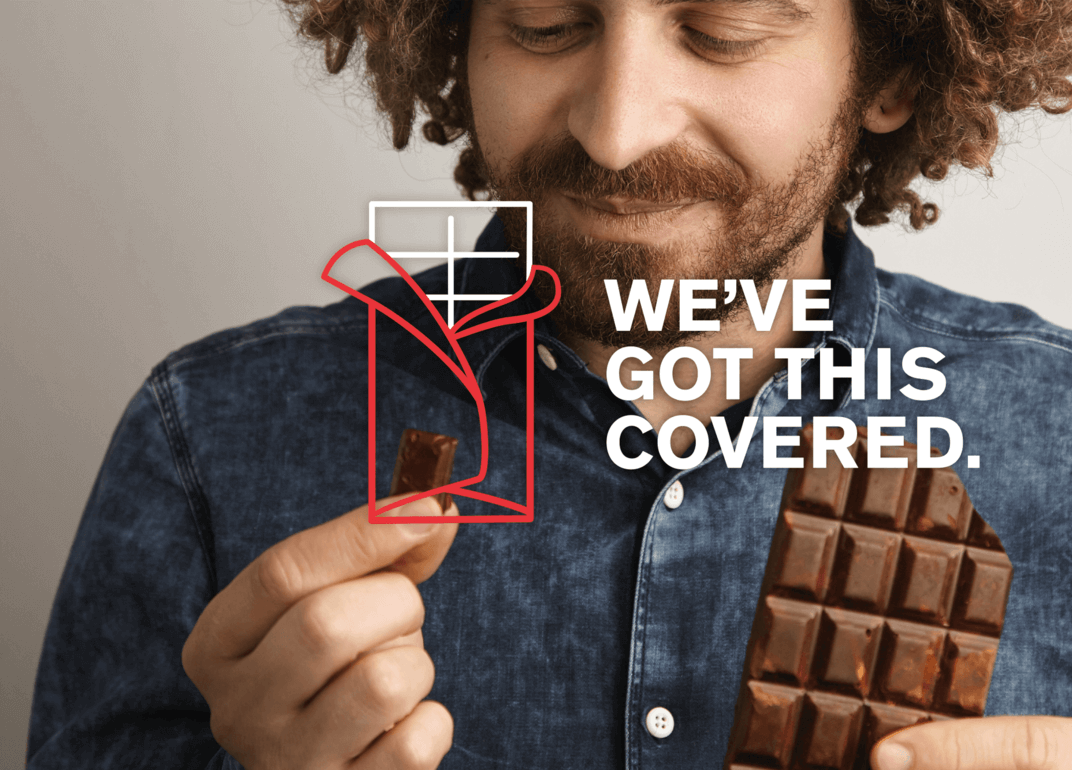 We cover a better tomorrow.
We understand our responsibility for the environment.After all, we built the first plant on the planet to produce only recyclable flexible packaging. Our goal is to drive change in the industry toward more sustainable packaging solutions.
When it comes to perishable products, it's not just the inner values that count. After all, not even the best product quality will last if the packaging is not perfect. That's why we strive to produce packaging solutions that meet the most stringent barrier requirements, protecting goods from light, oxygen, water, and humidity – so they taste as good as the day they were made.
We transform global challenges into sustainable solutions.

Back to main navigation